"ICSE Board - School Topper for year 2020 Ms. Aarya Abhay Alvekar, shares her experience of Orthodontic Treatment, performed by her Orthodontist Dr. Ajinkya A. Patil
Dr. Ajinkya. A. Patil is an active and proud IOS member. Has served as the first scientific Convenor of South West Maharashtra Orthodontic Study Group.
Since more then 10 years engaged in exclusive Orthodontic practice at Kolhapur.
He is treating Miss Aarya Abhay Alvekar… Daughter of Mr. Abhay Alvekar & Mrs. Bhagyashri Alvekar. She made us all proud by Topping the ICSE board at national Level as she passed out from Kolhapur Seventh-Day Adventist Higher Secondary School.
Here she shares her Orthodontic Treatment experiences, through this interview as she got treated by Dr Ajinkya. Her Success story breaks the ice and doubts for parents who are skeptical to treat their children with Braces, at the fear of the treatment course interfering with their Children's studies.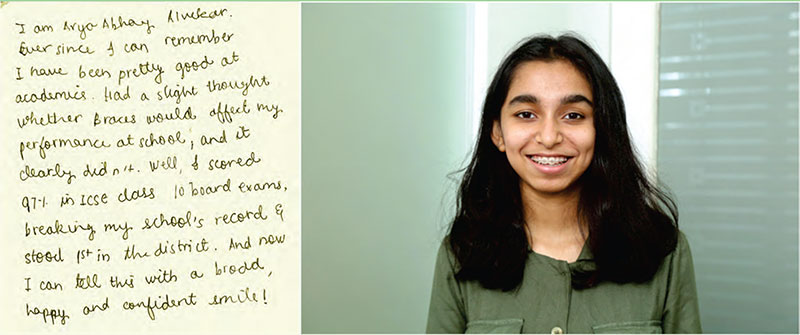 In my case it was a mutual decision. My parents had been considering this treatment for a while and as on my part I definitely wanted a confident smile.
- Not at all. It's just a thing going on in the background and you continue doing your own things.
— Oh yes I did enjoy ! Even now when I look at my old pics and see the change, it's a great feeling.
- No not really. I don't feel braces give you that much pain.
— Yes I will definitely recommend them and all those who need one.
— No it was never, because my doctor always scheduled my appointments in a way that were convenient for both.
– It is very important. This treatment not just fixes your teeth in place but does wonders in boosting your self-confidence and makes you love yourself more & more.
- Every appointment is a great because my doctor is more like a friend. But the best part would be the end result I guess, with that broad happy smile.
— Oh I would love to become an Orthodontist! But I am choosing something entirely different. Right now I am just keeping a lot of options open.